ALL ESCAPE ROOMS ARE NOW $28 per person
Once taken to your themed room, you will be given instructions on how to play. You will always have the ability to leave the room at any time. The goal is to solve all the puzzle and clues strategically placed throughout the room as a team before a specific time. Depending on the difficulty level of the room you are playing, the time to complete your escape is usually under 60 mins.  The groups that participate will have a photo op once they have completed the Escape Games that can be viewed on our Facebook page. 
If you are coming in just for fun, bring a group of players that are great to work with and fun to have around. If you are seeking to Escape then you need to choose a team that you communicate well with. You will be working closely together to solve all the clues.
A good size group adds an advantage as you will have more people to assist. The more brain power you have next to you the better you will be. Each room allows for a certain amount of people, make sure to check the room descriptions to pick the one that is right for you. 
What to bring to an Escape Room?
All you need to bring along with you is a critical thinking team and a positive attitude. Phones will not be allowed while you are in the Escape Room. (There are circumstances where you will be allowed to use your phone for light, in case you can't see too well). However we provide all the necessary tools for you to navigate through your adventure.
Prepare to arrive on time
Location: 681 Beville Rd. South Daytona (Get Directions) Our building is a bit tricky to find so make sure you are in the right place (see photo below). 
You should arrive at least 15 minutes before your scheduled game. This gives you time to become acclimated with the building and gives you spare time to fill out required paperwork such as waivers. It also ensures that all members of your party are present.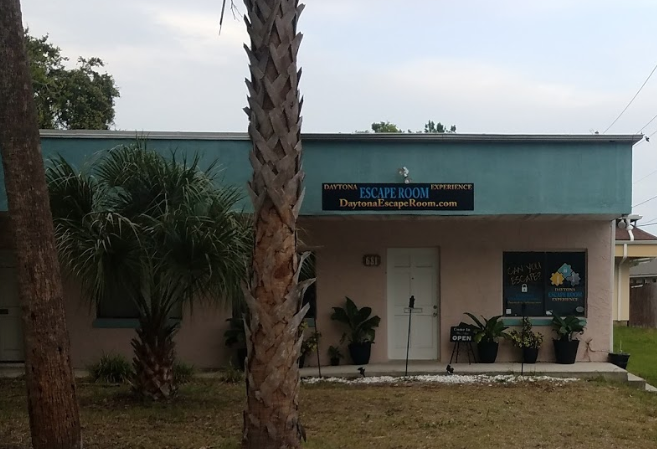 We set rules in place not only for your team's safety but to ensure everyone has a great time in a safe manner. Everyone that is participating in the Escape Rooms must fill out a waiver. Once this is done you will meet the Game Master. He/she will explain the rules to you before you go into a room and again, when you are in the room. Instructions will be given on what isn't a clue in the room such as decorative items, props and such. Please make sure to listen to your Game Master and follow directions. 
For your convenience, our Escape Rooms include a screen where you can view your time and ask for clues. The game master will be in another room monitoring your progress. At any point during your game, you may ask for clues to help you move along. Each room has a set time for a successful escape. Make sure to ask how much time you have before you commence a game.
Many people are nervous to try out an Escape room because they feel it is not safe. We can't speak for other Escape Rooms, but there is nothing in our rooms that are unsafe or could harm you in any way. Escape rooms are mental challenges, no hard physical labor is needed. 
Escape rooms are fun for the entire family however keep in mind that players will be scrambling around rooms to find clues. You may want to keep your little ones close by. Escape rooms are best suited for adults, teens and children over 7 years of age. 
The goal of an escape room is to work collaboratively as a unit. It is natural for a player with leadership qualities to take over but you want to work together. Call out clues as you find them. Don't wait for just one person to find the clues and puzzles, everyone should get involved. The best groups are those where everyone participates. 
What happens inside the Escape Room?
Once inside your Escape Room the clock starts ticking. How and when you discover clues and solve the puzzles is entirely up to you and your team. Within the room you will find locks that you need to find keys for, puzzles that need deciphering, and many hidden clues that need to be found. A multitude of tools will be provided in the room to help you complete your quest. There will be large screen displaying how much time you have left and also speakers where our Game Master can provide you with clues (if needed and or requested). Once you figure out all the necessary clues and puzzles, you will find the way out. 
All participating teams will have the opportunity to take a group photo that we will post on our Facebook page.  
In our lobby we proudly display the photo and times of  teams that have managed to beat everyone else's record. Let's see if your team can make it to our leaderboards. 
Winning is terrific, but make sure to have fun during your Escape Room experience. Enjoy working together in a timely manner to find your way out. Escape rooms are great for corporate events, birthdays, date nights and more!